Joseph Thomson Maasai Trust
THE CREATION OF THE JOSEPH THOMSON MAASAI TRUST
When Ezekiel Katato, a Maasai elder addressed a packed audience at an event organised by the Joseph Thomson Group in Wallace Hall Academy, Thornhill in 2015, he seemed to light a spark amongst those descendants of Joseph Thomson who were present.
He talked about the high regard in which Joseph Thomson is held by the Maasai in Kenya today. Ezekiel then outlined  the challenges of the 21st century which the Maasai face. His vision, his passion for culture, environment and young people, he sees as the way forward.
 Finally, he gave us an insight as to how we can help the Maasai today,  simply saying "walk and talk with us in our homeland. We will make you welcome; by spending time together in the bush and villages, we will share our cultures".
So that was the cue to set up a new charitable organisation by fellow descendants and supporters of Joseph Thomson. Mark Smith of the Herald wrote an interesting and indepth article on the launch.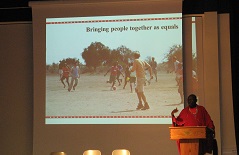 The mission of the Trust is to celebrate the life and legacy of Joseph Thomson in whatever way we can. In addition to the Walk that is now being organised in conjunction with Ezekiel's Olakira le Maa Trust, there are several events and initiatives in hand, which will carry our mission forward.
The process of setting up a charitable organisation, a SCIO (Scottish Charitable Incorporated Organisation) is, of necessity quite demanding and took both time and patience. The Scottish Charity Regulator (OSCR) approved our charitable status in September 2016.
Peter Wright, Secretary, states "it has been my task to steer us through this process. It has been done in the knowledge that it will enable us to create the means for a wider public to discover Joseph Thomson for themselves, join with us in celebrating his many qualities, and to get actively involved in events and projects that have been inspired by his legacy.
"It is my great joy to work with a highly motivated team of fellow Trustees, who share the same passion for he who we now refer to  simply as 'JT'. It is our pleasure to work where appropriate, with the Joseph Thomson Group, who created and now run the Joseph Thomson Heritage Centre in Sundial Cottage, the place of JT's birth".
 Membership of the Trust is £10 per annum. 
JOSEPH THOMSON MAASAI TRUST:   Contact details
 Web Site:   www.josephthomsonmaasaitrust.co.uk
  Email:        info@josephthomsonmaasaitrust.co.uk