Events
Opening times of the Local Heritage Centre -
The Centre will be open on Saturdays and Sundays during July and August, 2.00 - 4.00pm  It may be possible to arrange to visit by appointment, please telephone Sophia Harkness on 01848 330411 or 07760700141.
We have decided to concentrate on organising events and to only open the Centre in July and August.  The reason for this was that we found that people would come to a specific event rather than just drop into the Centre. We intend to review this at future AGMs.
Forthcoming  Events
Opening during July and August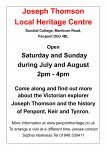 Previous events
Marchbank Family visit to the Centre on 18th August 2021
President-Sophia Harkness and Archivist-Gladys Cuttle welcomed Keith
Marchbank and family into the house where Joseph Thomson, Explorer 1858-1895 was born and where he stayed with his family until 1868.
Keith's Grandfather was Rev James Brown Thomson 1849-1910 who wrote a
biography on his brother in 1896 with a second edition printed in 1897 – 'Joseph Thomson, African Explorer'. Gladys first made contact with Keith in Aug 2020 and he is the oldest known descendant to Joseph Thomson at the age of 93 years,one of Keith's wishes was to obtain a copy of his Grandfather's book, so on this special memory trip 'The Joseph Thomson Group' presented him with a first edition 1896 copy.
See photos:  Keith, Daughter Trish, Grandson Luke and Gladys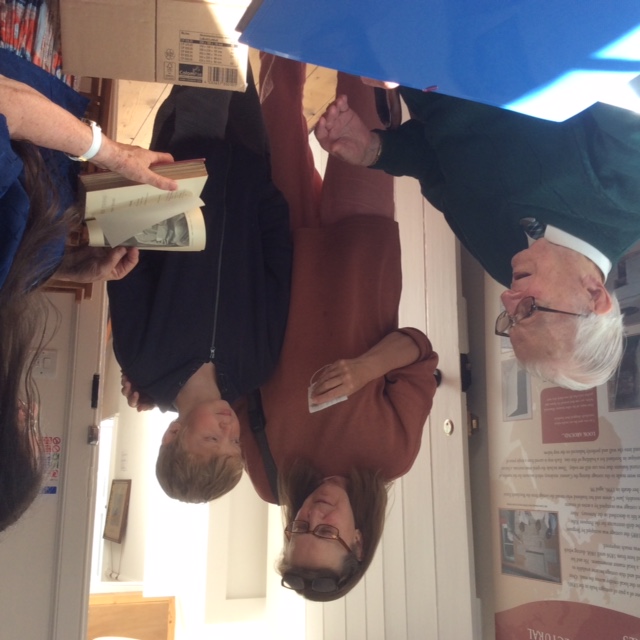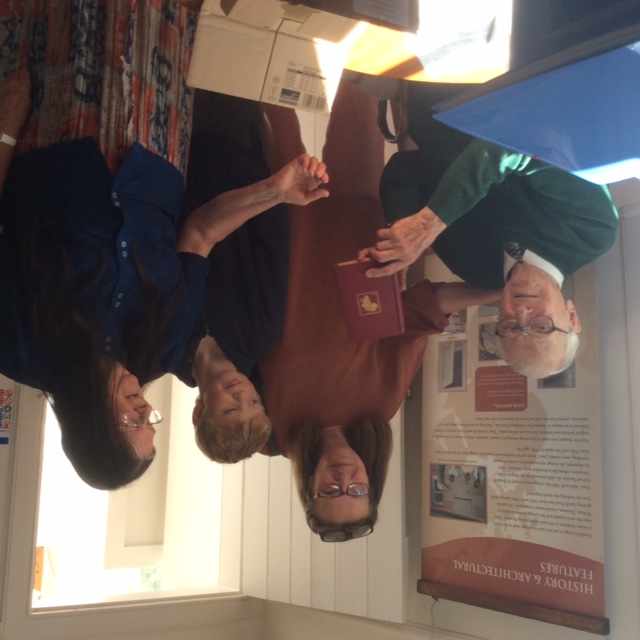 Keith was delighted to hold his Grand Uncle Joseph's telescope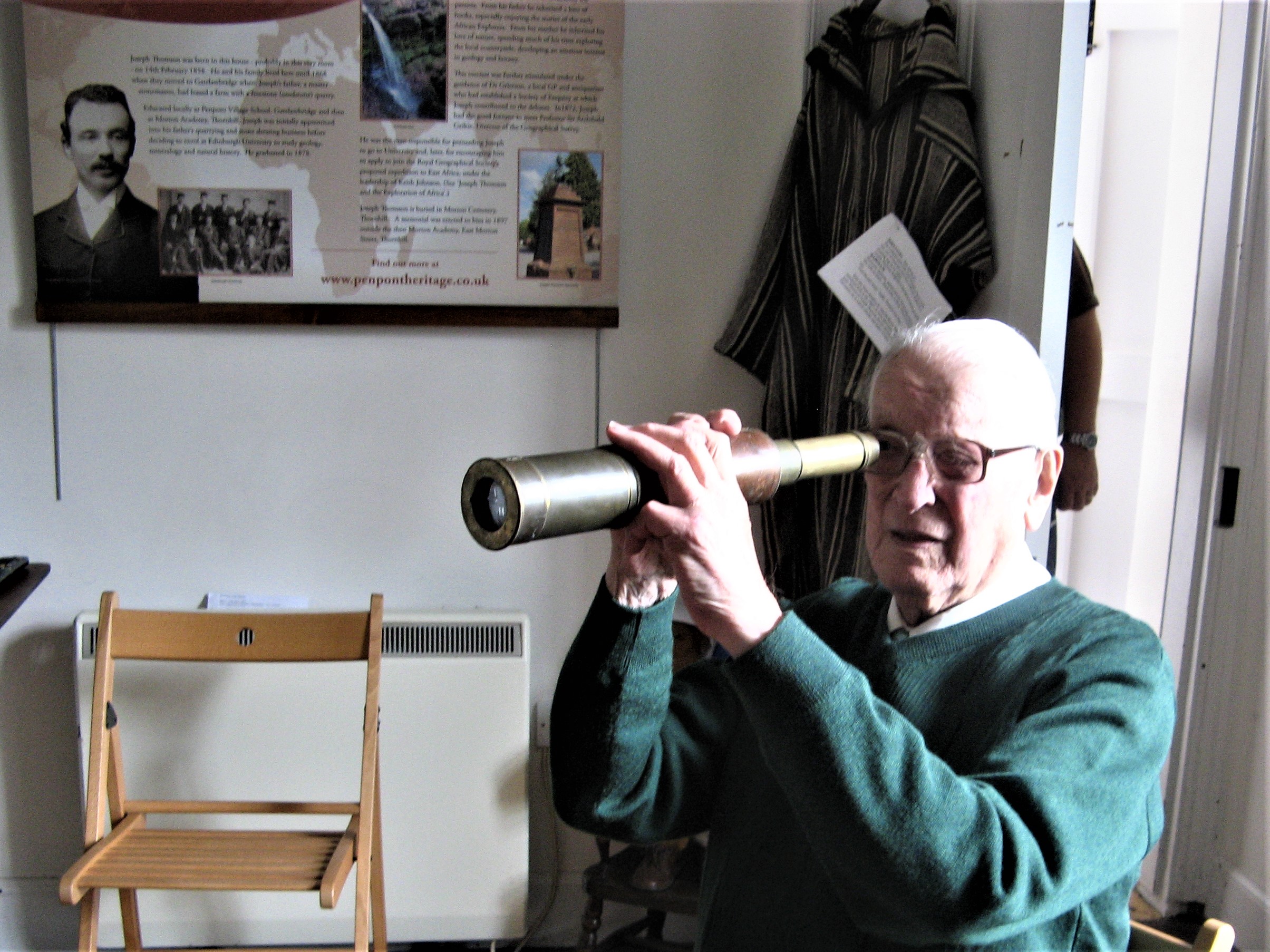 which he used from 1878 on all his adventures. 
The family all enjoyed learning much within the house on family history and happenings. Keith  left a donation towards the yearly running costs for the cottage. 
As Keith's other Grandfather is a 'Marchbank',  it was over to Thornhill to continue the family history with Gladys. Grandfather was John Marchbank 1856-1942 – John's brother Thomas Marchbank 1852-1921, his only son James Marchbank 1897-1915 died 6/5/1915 France, in WW1; then John's sister Euphemia Marchbank 1854-1937 marries in 1872 William Thomson 1851-1923. William, Joseph and Rev James Thomson were all brothers – so any children which John and Euphemia Marchbank have after 1874 onwards will be related to Joseph Thomson. Keith's parents married in Morton Church (now Thornhill) 14/6/1915 – Annie Wilson Thomson 1893-1980 to Frederick Furnivall Marchbank 1888-1963 Annie staying at Nithsdale View Cottage with her Mother and two brothers when married. These 6 cottages were built by Keith's Great Grandfather William George Thomson 1820-1899 for the Managers at Gatalawbridge Quarry. When William died he left 3 cottages each to his sons James and William, and when James died his wife came with some of her children from 1912-1919.
The family where delighted to view inside the church and spent wee time
remembering past memories to all. They were able to view the Parish Roll of
Honour and Congregational Church Plaque recording James Marchbank.
James is remembered on the Morton War Memorial, which family shall visit after they view the Thomson Memorial – before returning to Thornhill Inn for their overnight stay.

Last for the memories was the Old Morton Cemetery to see the Thomson
Gravestones, 2 near the top and 1 near bottom end. Recorded are Keith's Great Grandparents; 4 Grand Uncles; many Uncles and Aunts. One Uncle is his Mother's brother Joseph Aimer Thomson 1879-1825 who drowned in River Nith. Keith's Grandfather Rev James Brown Thomson is buried in Greenock where he was minister for 36 years. Greenock Church paid for his memorial gravestone.

To finish the day we stand with our back to the Thomson Gravestone and
look straight across, just wee bit to left we see 6 Nithsdale View cottages, and then next see Hikwa which Keith's Grand Uncle William Thomson built in 1895/96 then stayed there with Grand Aunt Euphemia and family until 1910/11, then they went to Canada.
Photo – from left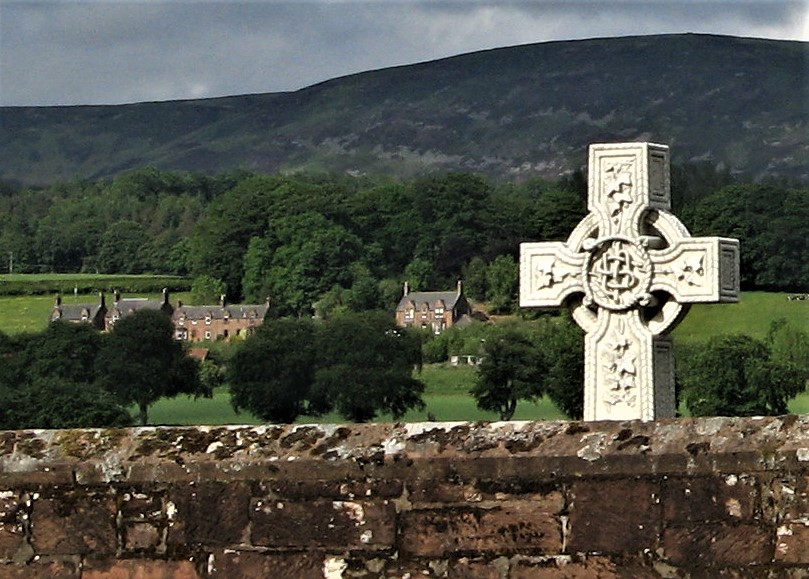 1. Nithsdale Cottages
3. Back of Joseph    2.  Hikwa
Thomson Gravestone
4.Wall – outside Morton                               old Cemetery
Nice enjoyable day, Keith and family continue the memory trip – visiting
places of Keith's past & shall visit his 90 year old cousin who stays Near Inverary.

Note = special visits can be arranged for descendants and others to learn
about the past – all for a donation to the group.
Due to COVID-19 the Centre is closed and only open - by appointment.


Doors Open Day - September 2020
The Centre was part of the nationwide Doors Open Days online event, giving free access to hundreds of buildings. An excellent video guide to the Centre was very kindly developed by Luke and John McKay.